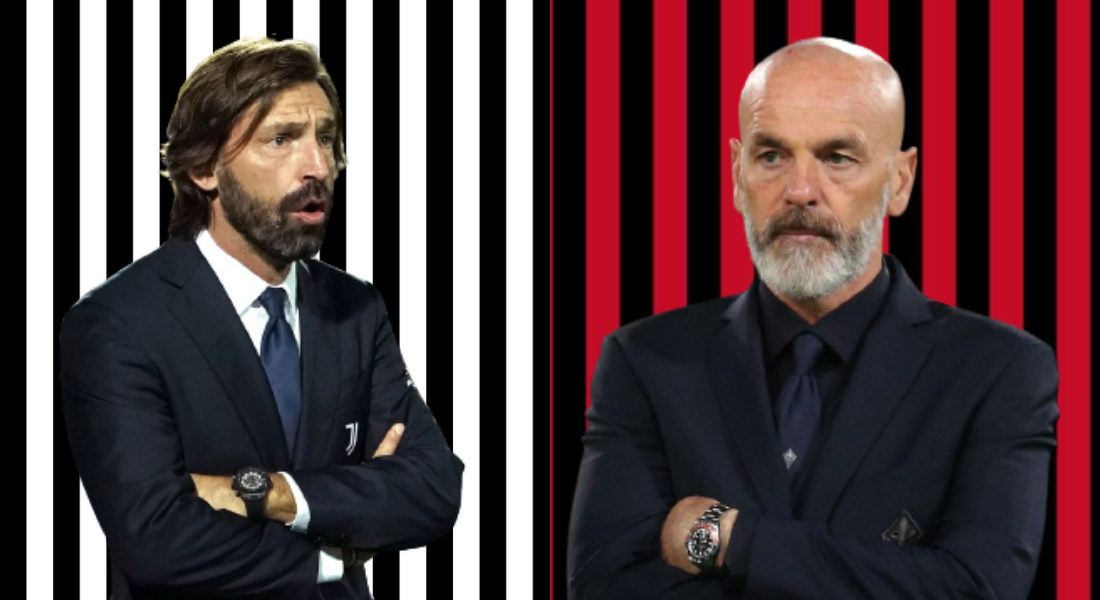 This post contains affiliate links. "As an Amazon Associate I earn from qualifying purchases."
AC MILAN VS JUVENTUS
Juventus has dominated the Italian top flight for the last ten years. They have risen to the top of Italian football almost unopposed, forcing some critics to label Serie A a farmers' league. However, in recent years, some rivals have tried to compete with the 'Old Lady', such as Gasperini's Atalanta and Conte's Inter. But this season another old enemy has returned to the fray, AC Milan, which has been revitalized with Pioli. Milan, currently at the top of the Serie A table, have been undefeated since the restart in 2020. Pioli has found a system to bring out the best in this young Milan. Players such as Hakan Calhanoglu, Theo Hernandez, Alexis Salemakers, Rafeal Leao and Davide Calabria, have found a new level of performance, making their Milan team difficult to break and lethal in transition. They have also displayed youthful courage and a stubborn mindset throughout the course of the season.
While Juventus with new boss Pirlo is in an unknown position in the table, occupying fifth place, out of the league places of the champion in Serie A. Pirlo's Juventus has had trouble finding consistency and form . However, Juventus have had their fair share of injury problems this season, and Covid has really hampered Pirlo's ability to nail down a starting eleven, which can be attributed to Bianconeri's performances this season.
2021 begins #SerieATIM League table! 👏
Where do you think your team will be at the end of the season? ☝️ 👇#WeAreCalcio pic.twitter.com/Zuo9ZyAjmR

– Lega Series A (@SerieA_EN) January 3, 2021
These two Italian giants will meet in a Serie A clash on the 6th, and this could turn into a game that acts as an early decider of the title. Historically and culturally, it has always been one of the most important games in Italy that attracts the attention of the media and the public. If the Rossoneri win, they will silence many skeptics, who think their performances this season have been a fluke, on the other hand, if Juventus win, they may hamper AC Milan's title charge and even relive their own disappointing season.
📽 The big game awaits you: let's relive our first #MilanJuve victory of the century, courtesy of a @ jksheva7 corset 🤩

📽 A double bid for the bianconeri: rivivi on 2-0, 2000 Shevchenko company 🤩

Powered by @skrill #SempreMilan pic.twitter.com/yNBToUy6Xb

– AC Milan (@acmilan) January 5, 2021
TEAM NEWS
AC Milan comes to this meeting with a depleted squad with stars like Ibrahimovic, Matteo Gabbia, Ismael Bennacer and Alexis Salemakers injured, and Sandro Tonali suspended after being sent off in the game against Benevento. Milan will look to persist with Pioli's dependable formation, the 4-2-3-1, with capable replacements for the missing players. Milan's most likely lineup will be- Gianluigi Donnarumma, Diego Dalot, Alessio Romagnoli, Simon Kjaer, Davide Calabria; Franck Kessie, Hakan Calhanoglu; Brahim Diaz, Theo Hernandez, Ante Rebic; Rafael Leao. #
Juventus, on the other hand, has a completely healthy team available at its disposal, with no one missing due to injuries, suspension or Covid. Pirlo has tried various formations over the course of this season experimenting with a back four and a back three. We can see Old Lady's lineup at 3-4-1-2, with the likely lineup consisting of Wojciech Szczesny; Alex Sandro, Leonardo Bonucci, Mattijs de Ligt, Juan Cuadrado; Rodrigo Bentancur, Weston McKennie, Federico Chiesa; Paulo Dybala, Cristiano Ronaldo, Alvaro Morata.
THE GAME CHANGERS
For Milan, in the absence of Zlatan, Leao has inadvertently become the talisman of this team. He has been in exceptional form scoring 4 goals and assisting 3 others in just 11 appearances. Frank Kessie in midfield has dominated the oppositions with his powerful career and uncompromising tackling technique, for Milan this season. Or Hernandez is another player who has shown terrifying form this season by putting up exceptional defensive numbers, which complement his consistent offensive outing very well. If the Rossoneri want to pass one by the Turin side, they will need Leao, Kessie and Hernández to perform at their best.
So good to start the year with a victory, keep going strong.@AC Milan pic.twitter.com/ln1GaKZV43

– Rafael Leão (@ RafaeLeao7) January 3, 2021
Juventus, on the other hand, has a Portuguese master of its own, the ever-reliable Cristiano Ronaldo, who despite hiring Covid earlier this season, is still performing at a very high level. He has only had the constant support of Álvaro Morata, who throughout this season has found his scoring touch again and together with Ronaldo he has scored 4 goals and scored 6 more goals for his teammates, in just 11 games. One of the most disappointing players in a Juve jersey this season has been Paulo Dybala, who scored in the last Bianconeri game, would seek to perform at his best just behind the prolific pair of Ronaldo and Morata as he can act Like a game changer in this game.
PREDICTION
The last match between the two ended in Milan's favor as they destroyed Juve de Sarri 4-2, but this time, Juventus would seek to end Milan's unbeaten streak and validate their own title credentials, while Milan would seek to beat Juve again. dismantling any hope of a title this season. For the neutrals, it would be an extremely exciting match to watch, as both teams would seek to dominate the ball and attack in numbers.
At Foottheball we predict a close game with a great score of 3-2 in favor of Milan, because the uncertainty about the system that Pirlo wants to implement at Juventus will act as a major obstacle for them, especially against this coherent Milan team under Pioli .
This match could spell the end of Juventus' dominance over Serie A and the resurrection of AC Milan as a European soccer giant.
Source link