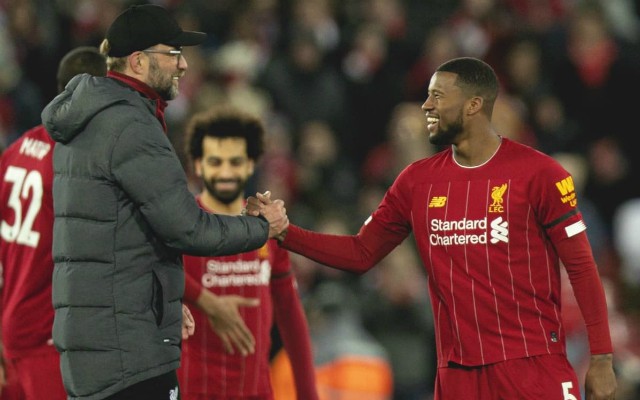 This post contains affiliate links. "As an Amazon Associate I earn from qualifying purchases."
At the press conference leading up to Liverpool's draw at Crystal Palace, Jurgen Klopp spoke about a message from Georginio Wijnaldum to the entire locker room ahead of the 2-1 win over Spurs.
Klopp was questioned about the importance of a 'fast start' after the opposite led Liverpool to share the spoils against relegation candidates Fulham when he detailed a talk from Wijnaldum.
The central midfielder, whose contract expires this summer, was "yelling" at the entire locker room according to Klopp, urging them not to "waste the first half again" before heading out to play against Spurs.
Wijnaldum's message certainly came as the Reds took the lead in the 26th minute, with Anfield's team in the better half in the opening period, despite Heung-Min Son drawing a tie minutes later.
The Dutchman played the full 90 minutes of the crucial victory that has placed the Reds at the top of the table as they look to defend their historic first Premier League title.
Jurgen Klopp detailed a pre-match talk by Georginio Wijnaldum ahead of Liverpool's crucial win against Spurs, which says it all about the Dutch worker … pic.twitter.com/xTamI0AcVK

– CaughtOffside (@caughtoffside) December 18, 2020
"Oh that's right, I think it was Gini (Wijnaldum) in the locker room before the Tottenham game, don't let us waste the first half again, yelling at the locker room."
"I should have yelled that again before we left the locker room at halftime, because we lost about 10 or 15 minutes then."
"Obviously it was a different match, but it makes perfect sense, but if you don't have the perfect start, which is completely normal because it can happen, then you have to restart in the next minute and not after half time."
"We have room for improvement, it's incredible, but the guys played a pretty good game in the last game (against Spurs), which was a really difficult game. We feel good right now and we try to take advantage of that. "
Wijnaldum has started 17 of his 20 appearances in all competitions this season, he certainly remains a key player for the Reds, having played the full 90 minutes in all but one of their league games.
The 30-year-old has made 206 appearances for the Reds, and Klopp's latest comments reiterated the importance of playing both on and off the court.
Wijnaldum's leadership is something that has clearly been recognized by the Dutch national team, as he has become the captain with the club and teammate Virgil van Dijk sidelined with a long knee injury.
Source link