This post contains affiliate links. "As an Amazon Associate I earn from qualifying purchases."
Are you tired of wearing t-shirts, buckets, or other crazy things like goalposts when you or your kids are playing soccer in the garden? So read on here, where we guide you to the best football goal for the garden, so you are ready when spring comes.
There are generally four things to consider when choosing a football goal for the garden:
Material – wood, steel or plastic?
Size – how big should the goal be?
Price – you must of course also decide how much you are willing to pay.
Storage – should it be able to stand outside all year or should it be able to be packed away?
We review the various points below and finally give an idea of ​​which goal is right for you and your need
Material
The choice of material is very much related to the points about storage and price as these two points are different depending on which material you choose. Here we review what materials are available and what benefits there are for each individual goal.
Within all materials, you will find different sizes and you can therefore always find a size that suits your particular garden.
In the following sections, we review these four types of materials:
Plastic
Steel / aluminum
Tree
Foldable goals
Tree
Fortunately, there is advice that your football goal in wood can stand outside all year. If you buy one that has been treated with wood protection, it can withstand standing outside in all kinds of weather and you should therefore not think about putting it away when the football season is over.
Plastic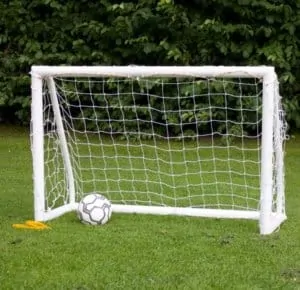 Dimensions in plastic are available in versions where the entire frame is made of one piece of plastic, while other dimensions are assembled using a click system. The latter is preferable if one wants to be able to pack the goal away. However, it should be added that the goal is maintenance-free, and can be left out all year, so it is not necessary to pack the goals away. In addition, the target shown has soft edges, so you do not hit yourself if you run into it.
When buying a plastic goal, pay attention to whether the goal can be attached to the grass. The targets do not weigh as much and are therefore not as stable on the grass as a target made of wood or steel/aluminum does and they, therefore, fall over more easily if you shoot hard at them. Therefore, always check whether there are pegs or the like to secure the target so that it does not tip over when it is used.
Steel / aluminum
The advantage of measurements in steel or aluminum is that they are really stable in use. As they are, they stand quite well, but it is also possible to attach them better with an anchorage in the ground, such as pegs or the like.
Some targets, such as those from Exit, which is one of the major players in the market, come with anchors, while for other targets you have to buy anchors or extra weights, which are mounted on the target itself and make it more stable. Therefore, always remember to ask if there are pegs or the like with the target when you buy it.
The dimensions in steel or aluminum require no maintenance and they can therefore be left out all year round. They are available in many price ranges, where the target shown from Exit is around DKK 1,000.
If you are more into football goals, where the frame is welded together, like the ones you know from football pitches and sports fields, then you must prepare for a somewhat more expensive goal for the garden, where prices start at DKK 2,000. In return, you also get a more professional experience of the goal and you can play football star in your own backyard.
Foldable goals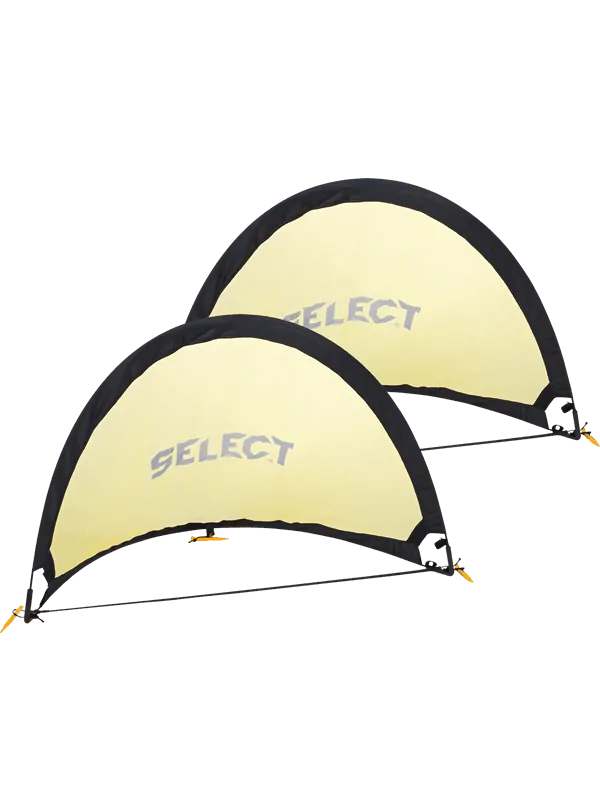 Do you want a football goal for the garden that can be folded completely, instead of one that has to be outside all year round? Then it is a foldable target you should look for as it requires a minimum of space for storage of this particular target. In addition, it is easy to pack up and take with you to the cottage or on holiday, so that football training can be kept straight. Often the foldable goals do not weigh as much as one of the other goals we have previously presented and your child can, therefore, pick it up from the shed when he or she wants to play.
The biggest advantage of most foldable measurements is that they are easy to transport and your child can even get it out of the shed if he or she wants to play ball in the garden. It should be noted here that because the goals are as light as they are, it may be necessary to mount it with pegs if the players shoot hard at a goal or if it is windy weather. Therefore, when buying a pop-up target, check whether pegs are included or whether you should go out and buy these yourself.
A foldable measure is also available in aluminum, which is why it is more difficult to pack and it weighs more than a foldable measure made of plastic or similar. On the other hand, do not secure the target with pegs before use, as the target is stuck to the ground. Some may know these goals from the football club and it gives a more professional feeling to apply this goal. However, the price is high for such a goal. In return, you get many hours and years of enjoyment from it.
Price
Price and quality are usually linked – this also applies to football goals for the garden. The material and size affect the price, which starts at DKK 500 for a good football goal for the garden.
Steel and aluminum are more expensive than a measure in plastic and wood, and in general you can expect to spend between DKK 500-1500 to get a good measure that you can enjoy for many years.
To get a maintenance-free goal, you often have to pay more for it than if the goal has to be packed away when it gets to winter. On the other hand, you also get a goal of good quality, which lasts for many years.
Size
The size of the goal depends both on how much space there is in the garden, but also who in the family should primarily use the goal. If you are in doubt about which size of football goal your child will get the most out of, follow this rule of thumb:
Children up to seven years: Measure up to 180 cm. x 150 cm.
Children up to 11 years: Measure up to 200 cm. x 180 cm.
However, you can easily choose both larger or smaller targets than what is stated here. A smaller target will provide a greater challenge in terms of training your technique, while larger targets are good for practicing shot placement for all ages.
A so-called mini-football goal is well suited for the youngest children. As mentioned earlier, older children, and adults for that matter, can also use the goal to advantage, as it is well suited to practice accurate scoring.
Due to the size of the target, it does not take up much space, neither in the garden nor when packed away. In addition, it can be easily put away once you have removed the pegs needed to hold it in place. 
The target must not be left outdoors all year, as it will rust or cause other damage.
For the older children, it is important to choose a larger football goal for the garden than the mini-football goal shown. In addition, it is about choosing a proper quality, where the goal can withstand hard and countless kicks, without it breaking. You can advantageously choose a measure in wood (which has been treated) or a measure in steel or aluminum. Although these goals are often more expensive than those made of plastic, they also last longer and can handle the many hours of play and play that your children will no doubt get by acquiring a soccer goal for the garden.
Storage
If you have enough space in the garden and would like the football goal to stand out all year, you can skip this point. However, it is a good idea to take the net in over the winter if you leave the target out.
If the garden is so small that it is necessary to pack the target together every time it is used, then you can consider whether you should buy a pop-up target instead of the large targets. They can be easily packed together, do not take up much space and can be taken on holiday. You can find them at Playzone.dk, among other places.
If you have room for a real football goal but still want to be able to pack it away without it taking up much space, then go for goals that are gathered by being clicked together. They are available in both plastic and aluminum, and they are just as easy to disassemble as they are to assemble. However, an adult should collect them as it is easy for children to get their fingers pinched.
Some dimensions, on the other hand, cannot be disassembled with the same ease as the collapsible ones and therefore require good storage space. This applies to a number of measurements in steel or aluminum, where the measurement frame is welded together. With most of these types of measurements, you can fold the bottom together, but the measure will still fill in the height and width. 
The same is the case with measurements in wood – they can not be folded together, and if you therefore want a measurement in wood and at the same time be able to put it away, then it requires good storage space.
The right football goal for the garden – based on price, material and the football player
When choosing a football goal for the garden, the most important thing is to ask yourself how much you want to pay and in what material you want the goal – and who should use the goal. A teenager kicks the ball much harder than a child will do. If the goal is for the former, it is a good idea to choose a goal in a stronger quality. Whether this quality is of plastic, wood or aluminum is secondary, as you can find a quality that corresponds to the price you want to give for the target.
If you want a goal that is most reminiscent of the football goals known from sports fields and the football club, you must choose one in aluminum, but if you are not willing to pay more than DKK 1,000 for it, then choose a goal in wood. Both types are solid and durable football goals for the garden, which can withstand shots on the crossbar and the post without them tipping over.
The goal in plastic, on the other hand, is a good bet if you want a versatile goal. In appearance it does not look like a classic football goal and it does not have the same stability as goals in wood or steel. Here it is important to fix the target with pegs, so you are sure it does not tip over. On the other hand, you get a goal that is easy to assemble and disassemble, and you can therefore pack it down and take it with you to the holiday home. Plastic is also a super durable material that gives the target a really long life.
The foldable targets are good for the family who wants the opportunity to take the target to the beach or on holiday. Like the goal of plastic, these goals are not similar to those seen in football clubs and they often have to be fixed with pegs. On the other hand, most foldable measurements are easy to carry and your child can set them up themselves.