This post contains affiliate links. "As an Amazon Associate I earn from qualifying purchases."
If you are a woman and play football, you must of course have the right equipment, so you are well dressed for both training and matches. That is why we are looking at women's football equipment in this article so you can provide your optimum.
Actually, there is not much difference in what men and women should wear when playing football. Whether you are a woman or a man, you must wear football boots, socks, leg splints, t-shirts, and shorts, whether it is training or a real match.
All the mentioned items can be purchased with a unisex fit. As a woman, however, you cannot do without a sports bra, just as elastics, and possibly a headband can also be good to buy.
In this article, we review these things and introduce different collections of football boots, specially made for women.
Specific football equipment for women
Sports bra
Headband
Rubber bands
Sports bra
As a woman, the biggest difference in your clothing, compared to that of men's, is the sports bra you wear, inside your clothing. This should ensure that your breasts stay where they should be during runs, tackles and the like.
If you do not wear a sports bra, your breasts will swing from side to side and up and down and it can eventually both hurt and can damage your breast tissue, so your breasts become slacker prematurely – and these are the fewest women interested in.
Therefore, a good and well-fitting sports bra is necessary when playing sports.
In addition, no, a plain bra is not enough. Not even if you have small breasts. There are no muscles to hold your breasts in place and you therefore damage the tissue behind them if you do not wear a proper sports bra.
Wearing a sports bra during exercise can reduce breast movements by up to 73% (according to researchers from the University of Portsmouth ). Therefore, you help your body keep your breasts in sharp shape by using the right bra.
Which bra should I choose?
It is a bit of a science to find the perfect bra – both when it comes to sports, but also in general. Here we will only concentrate on how to find the right sports bra. Although we provide some guidelines for how your bra should fit, we here at AuthenticFootballShopTitans recommend that you go to a store that sells sports bras (it can be Triumph, Hunkemöller or a sports shop) and get professional help.
It may especially be a good idea to do so, the first few times you need to wear a sports bra. That way, you are sure to come home with a bra in proper quality, one that fits well and one that supports your breasts optimally.
The sizes of the bra
How the sizes are put together is related to how the bra is designed: If you need a bra that you pull over your head (like the one in the picture from adidas), the sizes are often called S, M, L, etc.
If you need a sports bra instead, which you can close, just as you can with a regular bra, they often follow the same size measurements as the regular bras, i.e. the circumference below the chest and your cup size. You can, therefore, start by trying on the bra that fits your clothing size or your normal bra size. You will find many different bras on e.g. Zalando.
Bra from Adidas that you pull over your head. This model costs approx. 250 depending on the dealer.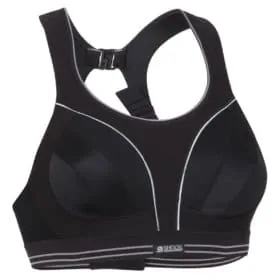 Bra with the name Shock Absorber Run for 519, -. Also available in coral color. The bra is suitable if you have large breasts.
If you have small breasts, you can easily use the first-mentioned bra. If, on the other hand, you have large breasts (usually above the C-cup), we recommend a sports bra with wide straps and a more marked, preferably molded, cup. That way, you get the most support for your breasts while playing sports.
If you have large breasts, you usually need to give more money for your bra. We, here at AFST, however, recommend that you invest in a proper bra so that you preserve your breasts as much as possible – even if it can be an expensive affair.
Support for your breasts
Hunkemöller has made three different types of support in their bras, depending on what activity you need to do. If you play football, you must have a sports bra with level support 3, as football requires a lot of your sports bra, so your breasts stay where they should.
Examples of track bras from hunkemöller
As I said, hunkemöller has made three different levels within support. However, because you probably go to football and therefore would like a sports bra for your particular sport, we will only show examples of a bra with support level 3. That way you know which model you can go for when you go down to the store and buy your new sports bra.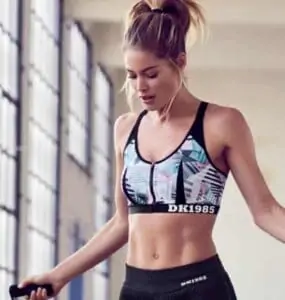 An example of a bra with support level 3 is the model in the picture to the right. It has a zipper closure at the front, which makes it easy to put on and take off, even when it is completely wet with sweat. It keeps your chest close to your body and ensures that it does not bounce back and forth while exercising. It consists of 43% polyamide, 38% polyester, and 19% elastane. It, therefore, keeps the fit when you use it a lot and you subsequently wash it. It is sweat transporting during your workout. 
You can find similar bras here.
On the back, it has transverse straps, which means that your bra stays where it should. The slanted straps also provide more support for your chest.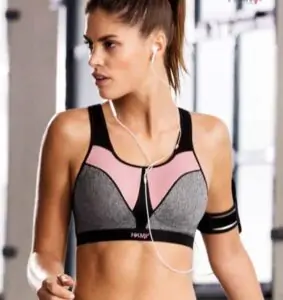 Another option within bras from hunkemöller is this gray model with pink and black details. It is also support level 3 and supports your chest really well during great physical activity. If you have a chest in the cup size CF, this bra is a good choice, as the wide piece of fabric in the front and the slanted straps on the back provide optimal support for your chest. It is without a brace, you can take out the padding, the bowls are molded and the shoulder straps are adjustable.
It is not just hunkemöller who specializes in sports bras. The underwear brand Triumph has made several different types of sports bras, depending on your needs. With them, you can get a bra with and without a brace, a bra with filling, a bra that makes your breasts look bigger or smaller, and a model with a push-up effect. Therefore, there is something for everyone.
When trying on a sports bra
If you are in a rehearsal room and have a professional by your side, he / she can help you find the right bra. If you are standing alone, it is an advantage to try to do the exercises you know you want to do when you are wearing the bra, out on the field. Even if you cannot run far inside the rehearsal room, jump and run on the spot. If your breasts do not move, you have chosen the right bra. If they or the bra moves instead, you need a size down.
Even though the bra must be tight, you must still be able to breathe and it must be comfortable to wear it. Therefore, keep those things in mind when standing in the rehearsal room.
The durability and quality of the bra
Your bra can 'last' for 6-12 months, after that it needs to be replaced. The elasticity in it disappears after many times of use and washing and you therefore do not get the right support after a year of using it. Therefore, remember to change it often – even if you do not think it is wrong.
You may risk that a cheaper bra needs to be replaced more frequently than a slightly more expensive bra, as the quality is often poorer the further down the price comes. Bras with strong straps from Nike and adidas can be bought for approx. 300 kroner, depending on the dealer. Therefore, assume that this is the minimum amount you need to get rid of when you buy a good sports bra.
Headband
A basic rule in football is that players must not wear anything (either during a match or for training) that could endanger themselves or the other players. This is where women's (often) long hair and their jeweler come into the picture. The hair should preferably be set and preferably in a ponytail or a tuber. If you have bangs, do not use buckles or hairpins, as these can fall out and damage the players around you.
Therefore, we recommend a headband that you can put your hair up with and let sit in the forehead. It should always be in a soft material so that there is no risk of it harming either you or others.
You can get headbands in many different colors, materials and sizes. Most importantly, they are made of a soft material and you will find the wide headband that you feel best with. 
If you have a favorite team, you can also often get a band with their colors, so you can indicate which team you support while you train.
If you need to wear a headband in a match for a club, the club decides the colors of the headband. Maybe you can get a headband from the club. If you cannot, talk to your trainer about the color of your headband.
Rubber bands
Your hair should (if it is long) sit together with an elastic band. If you have thick hair, it can often be difficult to get the elastic to stay in place. That is why we recommend elastics from a hairdresser from the brand BLAX. The elastics are specially developed for thick hair, and your hair does not fall out during the fight.
They are made from recycled plastic and they can often last for months if you treat them properly. Of course, you can also use the elastics from BLAX if you have thin hair.
Always remember to buy elastics without a metal clip, whether it is elastic of fabric or plastic, as the clip can ruin and break your hair.
Football boots
Most football boots are unisex and can thus be worn by both men and women and you do not necessarily have to invest in something that is specifically made for women. However,… there are football boots that are definitely made for women. These are smaller, narrower in the foot, and often more colorful than the shoes that men wear. At some stores, you can also have your name written on the boot, so that it becomes completely unique.
If you need a new football boot, whether you are a man or a woman, you must take into account what material the upper part of the boot is made of and what surface you should play on. The things are the same for both men and women, we refer to the guide "The ultimate guide to new football boots ".
Collections for women
It is known that sports brands make several collections of their clothes over the course of a year. Behind each collection is a designer with an idea and inspiration from something specific. In 2015, the brand Nike launched its first collection of football boots for women. Here came the inspiration from the World Cup in Canada, which led to a collection of boots in bright colors (yellow and turquoise) and with a narrower fit than if the boots had been for men.
The collection received great recognition and praise, both here in Denmark and internationally, and many believe that Nike has in this way helped to put a greater focus on women's football.
Adidas has also joined the cause and has made the series Mi Adizero 5 Star, which are all in colorful material and are available with a pattern in gold and black, pink and white, pink, blue and white, red and white and a variant with black background and flames up from the ankle.
Although there have been more collections of football boots for women, it is still men who dominate in this area, as football with male players is still the most popular.
The prices of football boots are the same for both men and women. You can buy shoes for anything between $200 – $500, regardless of your gender.
T-shirts
Like the football boots, you can find t-shirts for football with a unisex fit and with a tighter fit that embraces and highlights the female shapes to a greater degree than a unisex jersey does. You also have the opportunity here to choose from several colors if you choose a t-shirt specially designed for women and you can therefore be a colorful input on the football field if you like.
Once again, these are the same guidelines that apply to both men and women when you need a t-shirt / jersey for football training / the match: It should preferably be made of a sweat-transporting material (polyester) so that the jersey does not get wet and you do not get cold while running on the track. The tight-fitting sweaters can contain elastane, which is also sweat transporting.
The material keeps the clothes close to the body. You can therefore easily choose a jersey in these two materials when you go on the field.
Do you have a favorite player or a favorite team whose jersey you would like to play in for your training? Most big teams, including Real Madrid, have a jersey for women, which are more tailored than the one for men. The jerseys can be purchased through your favorite team's website.
Sometimes you can also buy a jersey in the Danish sports shops / website, if the team is big enough.
If you have to play in your club's jerseys and colors, on the other hand, the club decides the fit, color and the like.
Shorts
There is not much difference in the shorts / pants you can buy when you play football. You can easily get tight-fitting trousers if you would rather have them than the normal width shorts, but you usually have to use the shorts with width in them on the court.
Leg rails and goalkeeper gloves
If we are talking about leg splints, follow the general recommendations that also apply to men. Remember to keep an eye on the size so you get the right protection if you need leg splints. Read our guide to leg splints.
As for goalie gloves, you need to pay attention to the size. Women's hands are often smaller than men's are and you should, therefore, find a pair of gloves that fit well, preferably one that can be closed and thus adjusted in the circumference around the wrist.
Once again, the same rules apply to goalie gloves for women and men and we, therefore, refer to our guide to goalie gloves if you are a goalie and need new gloves.
Now you are ready to conquer the course
After reading our entire guide, you are really well dressed to play match or train on the field. Have fun 🙂