This post contains affiliate links. "As an Amazon Associate I earn from qualifying purchases."
Although artificial grass is made to look and feel like real grass, it just is not quite the same. In this guide, we will tell you what to look for when going out to buy artificial turf boots. You will be guided through the bud types, tops, and finally a cheap extra tip. If you follow these tips, you will experience:
Reduced risk of injury
Fewer broken boots
Less sore feet and legs
Better maneuverability
If you have ever tried to play on artificial turf, you know that it differs from natural turf in a few important points:
One point is that you do not see so many slippery tackles – it can cause some nasty burns.
The second is that you can get good old fashioned pain in the rods.
If you can nod recognizably to the latter, it might be because you are not playing in the right type of football boots for artificial turf. Here are some tips to help you find the right boots for your artificial turf, which are becoming more and more popular.
Buds for artificial turf
First of all, the buds need to be in place, so here is an overview that explains what types of substrates the different buds are suitable for and what the abbreviations mean so that no doubt arises.
| Designation | Explanation |
| --- | --- |
| FG (Firm ground) | Suitable for solid surfaces, e.g. grass. |
| SG (Soft ground) | Suitable for soft and very soft surfaces, e.g. wet grass. |
| HG (Hard ground) | Suitable for hard surfaces, e.g. earth and gravel tracks. |
| AG (Artificial ground) | As the name suggests, boots with this designation are intended for plastic webs. |
| TF (Turf) | Just like the name AG, these boots are suitable for plastic tracks and gravel tracks. |
| MG (Multiground) | Another term for boots intended for plastic webs. |
| IN (Indoor) | Soccer shoes for indoor use. |
| VT (Versatract) | In principle, this is a multi-purpose boot – ie. It can be used on any surface. In reality, however, you should put it in the same category as FG. |
| ST (Street Turf) | What many of us would probably call ordinary casual shoes.Applicable on asphalt and similar surfaces. |
FG / AG knobs
The FG boots are probably the most common in Denmark, and you can also use them on artificial turf, but there are some things you need to be aware of.
Facts: Artificial turf is constantly being developed so that it feels more and more like real grass. The vast majority of artificial turf pitches in Denmark are new so-called 3rd generation pitches (3G)

3rd generation artificial turf pitches are characterized in that the straws are significantly longer (approx. 50-70 millimeters against previously approx. 30 millimeters), that the pitch filling consists of a layer of quartz sand at the bottom of the carpet and a layer of rubber granules at the top (or a mixture thereof) and about 20 millimeters of the artificial turf is not filled

Source: Made How
There is more grip in artificial turf and it can damage both you and your boots. Triangular / V-shaped knobs under the boots give too much grip in the artificial turf, which gives poorer maneuverability and puts a very high load on your joints and on the boot joints (especially the sole). Therefore, many people find that the sole simply comes loose from the boot.
Instead, you should choose a boot with cone-shaped knobs. You will be able to use them on both grass and 3G, and they are fine if you only play on artificial turf once in a while. More and more boots are also being made, which are designed to be used on both, the so-called FG / AG boots.
AG buds
But the very best knobs for 3G are AG, because that is what they are designed for.
The most obvious difference from FG buds is that the AG buds are slightly shorter and there are typically more of them. This provides, among other things, better shock absorption.
Nike's AG knobs are designed not to have too much grip in the artificial turf and feel more like playing with FG pads on natural grass. The knobs are hollow, which provides more frictional resistance.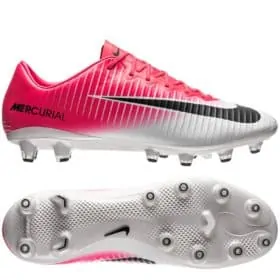 Nike's AG knobs are unique, but they are far from the only ones that make good and unique AG boots. Puma delivers both delicious and durable boots, with its own combination of leafy and conical knobs, with which you get a good grip and good mobility at the same time. An example of this could be these Puma evoPower boots:
Although the mentioned boots are designed for use on 3G artificial turf, artificial turf pitches are still tough on the boots. Therefore, do not expect exactly the same durability on boots for artificial grass as on boots for ordinary grass.
In addition, it should also be mentioned that it is not advisable to use AG boots on natural grass, so if you only want one pair of boots that can be used on both natural and artificial grass, then you should choose either a pair of FG boots with cone-shaped knobs or a pair of combined FG / AG boots.
The top of the boot
Another thing that is important to take into consideration is what material the top is made of. 3G wears a lot on the boots, and it is, therefore, best to choose a pair of boots in art material. But if you absolutely want a pair of leather boots, then these from Nike are an option:
On these boots, Nike has chosen to "pull" the sole a little further up over the toe of the boot, and the fact that the joint sits a little higher, gives them better durability in relation to sole operation. However, here you still need to be aware that leather can get worn very quickly due to the artificial turf.
A cheap tip
And then we promised to give a cheap tip in the end; shock-absorbing soles.
'Football boots are made of plastic, so they are certainly not very shock-absorbing. But if players replace the cardboard sole of their football boots with a light shock-absorbing sole, they will not feel the transition from grass to the artificial turf at all. We have practiced this for a long time in AaB, and now we have also shown it scientifically, «says Søren Kaalund, who in addition to the football medical profession also has his own orthopedic surgery clinic in Aalborg.
If you have a pair of football boots that you are really happy with and do not have the desire or afford to go out to buy a pair of brand new boots for the artificial turf, but experience that you get very sore feet and legs, it is a good option just to throw a pair of shock-absorbing soles in your boots instead of the "cardboard" soles your football boots probably have.
Especially the old artificial turf pitches are somewhat harder to play on than natural grass. So, if you only play on artificial turf once in a while or just need to save together for the coolest boots, then a pair of shock-absorbing soles may be a good solution for you.
Now just remember
While these tips can be great for finding the best boots for artificial turf, do not forget about the importance of a pair of boots that fit your foot.
That and everything else you need to know when choosing football boots, you can find 8 important tips for here.